Another San Diego Chiropractor SEO story by dk.
S.E.O. means search engine optimization, which technically is just stuff you do on your site to make a search engine like it. In reality, all most people care about is how well your site does in google for your main terms. The thing that makes the most difference for this, is not stuff on your site, but relevant links from other sites with lots of relevant links. Relevant means that the site linking to your site, is about the topic your site is about.
This is about real SEO, the way google wants you to do it. Doing SEO like this, I can always beat link building gimicks.
Google gives a huge bonus for exact match domains. An exact match is a domain name that is identical to what the user is searching for. For example, if you were trying to rank well for poker tournament t-shirt model you would want to have pokertournamenttshirtmodel.com. That would be an exact match.
Recently Shoemoney did an interview on Andy Jenkins blog about SEO. Shoe brought up my main chiropractic site, which I worked so hard to rank for chiropractic in San Diego. (Yes Andy, it is from an ENOM template from 1999.) LOL Jeremy sets a great example of kick ass SEO, he does stuff in real life that makes people want to write about it.
Obviously in today's social media world, we use the major La Jolla chiropractic Review Sites which work really well for us, but social media has very little SEO value.
A few years ago I purchased a domain name, sandiegochiropractic.com and figured it would come in handy. I threw up some really basic content, and for years it ranked in the top 10 for the term San Diego Chiropractic. The funny thing is that it ranked in the top 10 and sometimes in the top 3, with 0 links going to it. That shows you how much google likes an exact match!
Then when I moved over to hostgator, I forgot to move the content of the sandiegochiropractic.com site. The site obviously dropped completely out of the index. The oddity was an experimental business/local SEO experiment still linked to the site, and was kicking butt.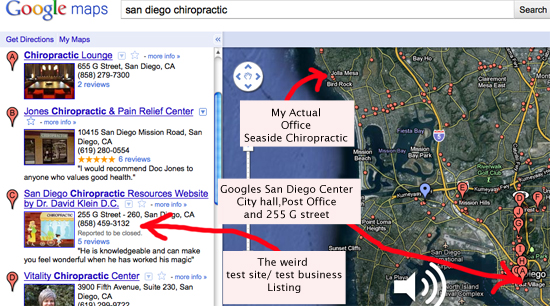 I am not linking to it, because I am hoping after google sees this post, they will remove this oddity local listing from the index.
This local listing used to show up number one in googles local index, and in fact is so powerful that it still shows up even though I have verified the business, and told google that it no longer exists.
The reason it is so powerful in googles mind is simply because of the physical address I used. What I had done was made a map of the top 20 or so google local listings for San Diego and saw what they had in common. Their exact geographic center was the City Hall of San Diego, or possibly the downtown post office, since they are really close to each other. I found an inexpensive address I could use right next to them, and established a business there.
The business didn't work, so I closed it down really quickly, but boy did google, and as of the writing of this boy does google like this listing.
So a few weeks ago I decided to try something new at SanDiegoChiropractic.com
At that point, the site had 0 links to it, except for the weird powerful local listing.
I know Matt Cutts at google does not encourage people to link between their own sites, because it is something you can manipulate, so I have never done it. If I do, I use a nofollow link, which tells google not to care about the link.
So a few weeks ago, I put some content on the site to see what happened, and to promote a new project.
Sure enough, as soon as I put the content up, google started listing the site again. This time it was not in the top 10, but more like number 20 or so. This was even with the local super listing connected to SanDiegoChiropractic.com
Then I wanted to get some links.
Bloggers are always my sweet spot for getting links. Bloggers actually write posts and link. Some guy who has a site selling walrus skins is not going to be linking out very often.
A great group that I wanted to get to meet were a community of women bloggers in San Diego.
So I threw a little party at my chiropractic office, with great sushi and award winning wine from my buddy who owns Falkner Winery, and my buddy who sells funny tshirts invited them, and we had some fun.
Then the women wrote some blogs as a natural consequence and we got some links from a military mom, the san diego momma, a surferwife, bloggoneit, and even a local blogger who had seen one of my marketing videos. I want you guys to click on these links and see the blogs. We have everything from a Page Rank 4, San Diego specific blog which will have massive SEO value, to sites on blogger, blogspot or wordpress.I even went out of my way to help SemperFiMomma off of blogspot, and into her own domain name. Long term this will have better SEO value.
Google needs to penalize some sites, while making others better. I just think of what would indicate quality. A blogger or wordpress.com blog I would think, would not appear to have as much value to google. If google sees a lot of the same thing, it looks unnatural. If you study them, the links from these sites are vary varied, in anchor text, where on the page they are, the site design, the platform and almost everything else. In common they all have a San Diego center to them. As a result, I would expect them to look good to google.
Now the site is moving up through google, and is currently listed in the 11th spot.
If John is nice enough to link to the site, it might even move up some more.
Just a little real life, on the fly SEO if you want to watch it happening.
The big takeaway on this, is simply do stuff in real life that makes bloggers want to write about and link to you.