I recently spent three precious days at Affiliate Dot Com Live in Las Vegas and learned some powerful secrets from a handful of the most successful internet marketers in the world.
The conference was my first internet marketing event ever and I arrived completely unaware of what was in store. I attended all the seminars and did not once leave the confines of the hotel—not even for a breath of fresh cool desert air.
My diligence paid off. By the time I left home for Hawaii—hung over in a cab to the airport—my attitude about my own success had shifted from pretty much unsure to absolutely certain.
Do you think it's because I learned all the latest techniques and tricks from people making over $100k a month online? Absolutely not, even though every one of the speakers were multi-millionaires.
Believe it or not, the most important lessons learned from Mike Filsaime's Affiliate Dot Com Live had nothing to do with the internet or marketing. It had to do with shifting my mindset and reprogramming my beliefs to think like a successful entrepreneur.
In going over my notes from the conference, I kept noticing these same 5 themes coming up:
Success is a Mental Game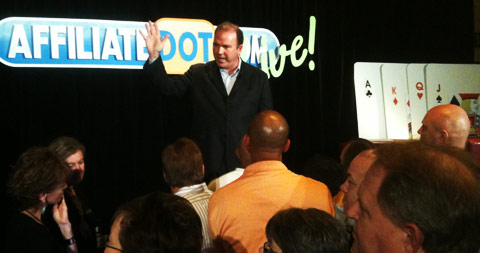 It's not really about optimizing your sales page or building your list or the thoudands of other things internet marketers do.
It's about believing in yourself that it's possible while binding and gagging that self-doubt within. To change your life, you must first change your mind.
Successful people are scared…but they do it anyway.
Give People What They Want
If you want to make money online, you have to give people what they want. This first means you have to know what people want. Then you do what it takes to give it to them.
In other words, focus on delivering extraordinary value to others. Money is not made by effort but rather by value.
People will pay for something they perceive as valuable. And the more value you create, the more money you'll make.
Focus on a Single Thing and Execute
One of the biggest challenges of beginning online marketers is knowing where to direct their focus and energy.
Too many of us fall into "Shiny Object Syndrome" (SOS), which is the problem of being constantly lured into the next big money making opportunity. Sound familiar?
Rich Schrefren in particular emphasized that we don't need to get good at everything to succeed. It's only when we focus on one thing (preferably something we're good at) does it become very easy to act.
All Skills are Learnable
I found this secret very interesting because it's not what you'd normally suspect. Most people think they need revolutionize the next trend in internet marketing to get noticed and start making money.
You're actually better off stealing someone else's genius, at least when you're starting out. It's as simple as seeing what works and then copying it!
Another way of saying this is you don't have to be the smartest person to succeed — you just have to be the one willing to jump in and take action.
There is No Magic Bullet
Surprise, surprise—there's no magic bullet that's going to make you an overnight millionaire! There's no instant success formula, no master domination strategy, no jackpot and no lottery ticket.
As internet marketers, we're constantly hit with tantalizing offers that make us believe it's really going to work. It looks something like this: where you are now + magic = where you want to be.
The hard truth is that in order to succeed—to realize the life and profits of your dreams—you must possess patience, business knowledge and a wholehearted commitment to succeed.
Most of all: take action!
Charles Bohannan focuses on creating great content through better writing and editing at http://wordful.com.